Got a couple requests to track down Carrie Bradshaw's white jersey v-neck Halston Heritage dress as seen in
Sex and the City 2
for less. Above, we have Sarah Jessica Parker wearing the original, which sells for $325 at singer22.com and Bloomingdale's. Quite possibly my favorite look from the movie for its clean lines and modern glamor. Gorgeous.
If purchasing the original dress is out of the question (as I'm sure it is for most of us), you could
rent
the exact style dress worn in the movie at
RentTheRunway.com
for $50! Then get your girlfriends to do the same: For each friend you invite, Rent the Runway will credit your account $20 after your friend's first rental has shipped. Tell everyone in your sorority and you'll be renting dresses for free!
Option B: Try this dress from Alloy.com, it has a very similar overall look for just $30.

**UPDATE 7/06/10**
Reader Maria found a MUCH better look for less than I did by XOXO at Macys.com for $59! Click to purchase: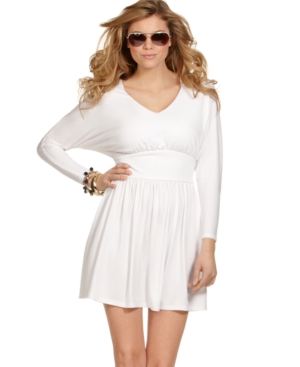 Thanks Maria!!